Mens DJMTGB02
FUSIONKNIT HYBRID L/S SHIRT "CLIFF"
¥29,700 tax included
Mens DJMTGB02
FUSIONKNIT HYBRID L/S SHIRT "CLIFF"
¥29,700 tax included
Hybrid shirt CLIFF, in our Fusionknit series, is in PRIMEFLEX® WR TAFFETA, a new fabric with stretch and water repellency, with a special, highly breathable mesh structure on the back using Schematech Engineered Knit LT ※1. Through the combination of these two materials, with their soft textures and high stretch, and the use of Descente's original Performa Cut pattern technology ※2, the shirt allows maximum mobility with minimum stress. An eco-friendly, multi-use, seamless shirt that's ideal by itself, or as a layering piece.
※1 A special fabric with a double jacquard structure that has different knitting methods for each part to give it different functionality such as stretchability and breathability.
※2 Performa Cut is a unique Descente technology that improves body mobility and reduces stress when worn. Its ergonomic design takes into account various factors, including material characteristics, sewing specifications, and sewing technology.
Fabric

PRIMEFLEX® WR TAFFETA
SCHEMATECH ENGINEERED KNIT LT
Function

Water Repellent
Schematech Technology Supersonic Technology, Stretch
PERFORMA-CUT (Performance Pattern Technology)
Color

(BRSH) Shadow Brown
(NVGR) Graphite Navy
(BK) Black
Detail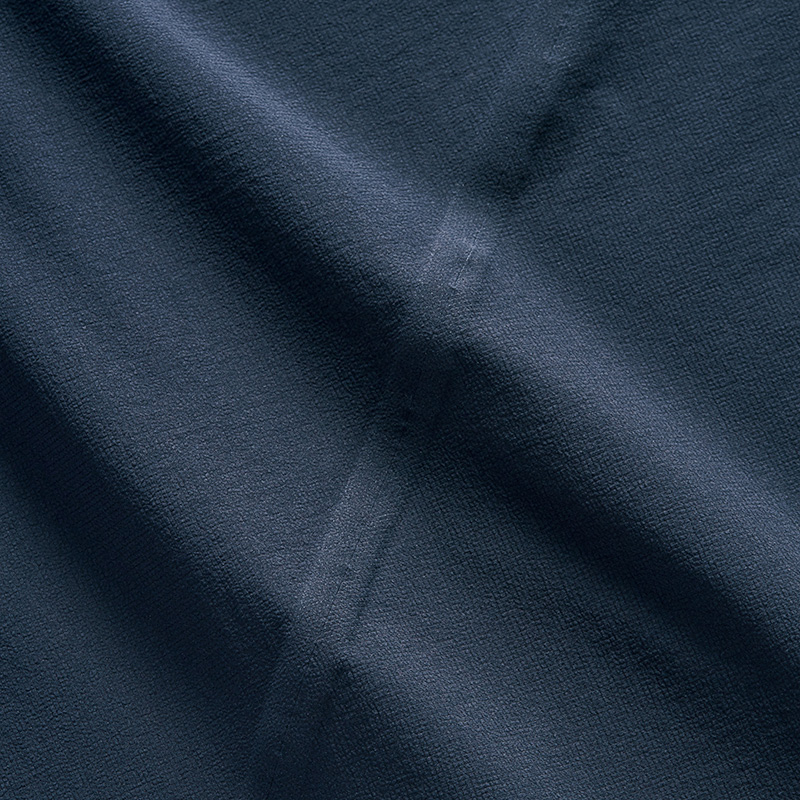 SUPERSONIC TECHNOLOGY
A special, Descente original technology, that permits continuous changes of yarns and knitting structures within one fabric. In combination with Descente's unique pattern technology, it allows maximization of the strengths of all aspects of a piece of material.