Mens DAMUGC50
HUMOFIT™ HARD SHELL JACKET "WISER"
¥66,000 tax included
Mens DAMUGC50
HUMOFIT™ HARD SHELL JACKET "WISER"
¥66,000 tax included
A hard shell jacket in a laminated double weave fabric. Taking advantage of the pouch-like characteristics of the two layer material, left and right side pockets are created without additional fabric inserts. Compared to conventional garment construction methods, fewer sewn seams are required, resulting in a sharper and cleaner silhouette. The front placket and hood have a HUMOFIT® ※1 lining, with temperature-dependent characteristics ensuring the garment fits the body closely for effective heat retention. Block Fit Adjusters on the cuffs ensure excellent fit at the wrists and hold firmly even in wet conditions.
※1 HUMOFIT®, developed by Mitsui Chemicals, Inc, is a new material with temperature dependency that senses human body temperature, becoming soft when warmed but firm when cooled. Its shape-retaining properties enable it to mold softly to the contours of the body.
Fabric

DERMIZAX® SINE WAVE PE
HUMOFIT®"
Function

Waterproof (20,000mm)
Windproof
Detachable Hood Linner
Block Fit Adjuster
Cohaesive™ Cord Lock System
Color

(BRGD) Ground Brown
(NVGR) Graphite Navy
(BK) Black
Detail
BLOCK FIT ADJUSTER
Sleeve cuff discomfort is eliminated with our brilliant, newly developed noiseless block fit adjustment tabs.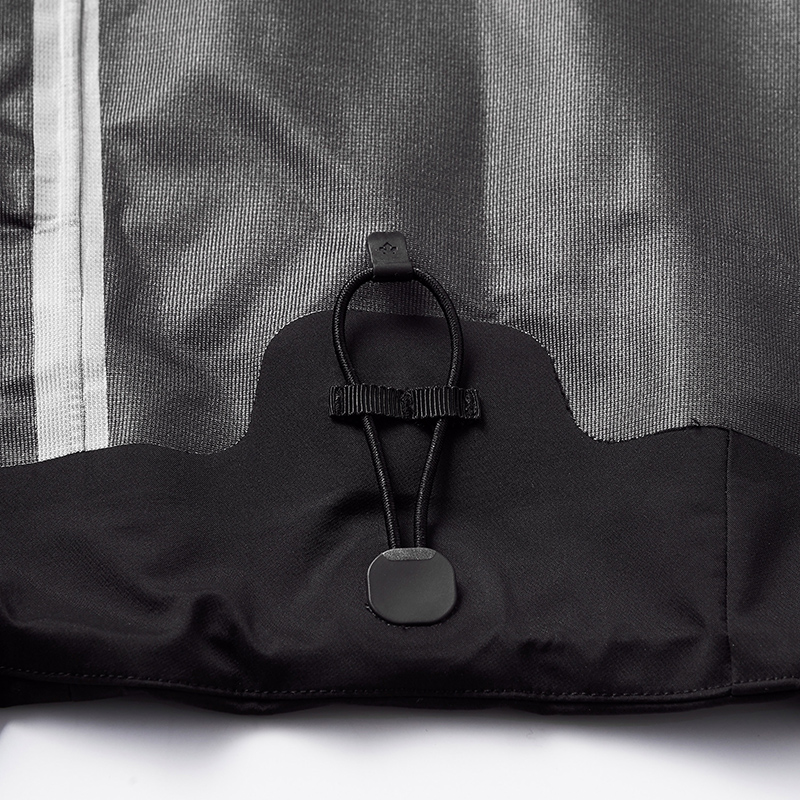 Cohaesive™ CORD LOCK SYSTEM
Developed by COHAESIVE GARMENT TECHNOLOGY of Canada, this is a durable, integrated adjustment management system using special welded parts to embed and integrate the cords that tighten hems and hoods into garment fabrics, making fit adjustments much simpler and more precise.